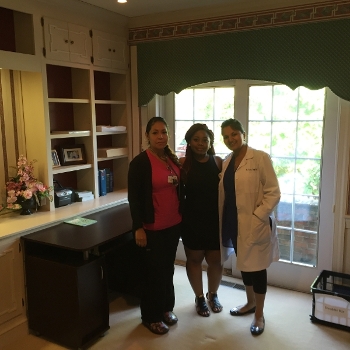 Employee Rosario Alvardo-Saenz, Kiara Gibbs and Dr. Seema Tayal
In early 2016, La Red Health Center(LRHC) received a $15,000 grant from the Fund for Women through the Delaware Community Foundation. The grant was to be used to expand women's health services in northern Sussex County in order to better serve residents of Milford, Lincoln, Slaughter Beach, Ellendale, Milton and the surrounding areas. Prior to the grant funding, this area suffered from a void in women's services with very limited options for healthcare providers.

Kiara Gibbs, who graduated from Milford High School, is extremely grateful that LRHC has expanded women's services in the Milford area. Ms. Gibbs, who was 18 at the time, contacted LRHC for a breast examination when she discovered a lump in her breast.

"This was a very serious issue for me as I have a very strong history of breast cancer in my family," Ms. Gibbs said. "I called my family physician who could not see me for three weeks. Everywhere I called told me there would be a delay in getting me in to see a doctor. Because of my family history, I wanted to see someone as soon as I could. Someone told me to call La Red and they were able to schedule an appointment for me that same day."

While performing a breast exam, Dr. Tayal and her Medical Assistant, Rosario Alvardo-Saenz found two masses and Ms. Gibbs was immediately sent for a breast ultrasound which confirmed the two masses. This led to a biopsy which confirmed that the masses were benign, a great relief to Ms. Gibbs.

"They were so nice and so helpful," Ms. Gibbs said. "I had results very quickly and, though I need to be followed up with ultrasounds on a regular basis, it was such a relief to know that it wasn't cancer so quickly. I am now a permanent patient at La Red."

Northern Sussex County had been identified by the federal government as a Medically Underserved Area. The government has also designated it as an area that has a health, dental and mental health professional shortage area. This underscored the need for accessible, quality healthcare services. LRHC is the only ambulatory care, sliding fee safety net provider serving Sussex County. Ms. Gibbs said that she is very thankful that La Red's newest location in Milford, which is available to provide her and other residents of Milford with increased access to women's health care.

"Not only did they get me in quickly and diagnose my issue, they were so nice," Ms. Gibbs said. "The doctor helped me understand what was happening. It was as if she was more of a motherly figure to me than just a doctor. She was calm and soothing during what was an extremely serious health issue for me. She never made me feel like my concerns were silly or unfounded, even when the tests showed I didn't have cancer. They make me feel comfortable and they helped me so quickly. I highly recommend them to anyone who needs healthcare."